I've been having a play with 'safety bills' for training. the idea was to have something suitable for beginers to train with, or for more experienced people to use to try moves which would otherwise not be safe, such as the thrusts to face and cuts to head shown in many treateses.
I'd better start by saying that this isn't my idea, I pinched it from a class at S.W.A.S.H. (
http://www.swash2010.com/
). The class was was run by the 1595 club (
http://www.the1595.co.uk/
) who are a HEMA group from Sussex who study Saviolo - they've put a lot of thought into it.
Anyway, here are the basic spears, in a blue peter stylee.
You will need
3 rattan canes, between 6 and 8 feet long
Duct Tape, prefferably 1 roll black, 1 roll silver
about 60p in 2P pieces.
Industrial heatshrink
a hot air gun.
1" Heavy duty foam pipe lagging
10 minutes.
1. Tape three canes together in a very tight bundle. I found it easies to put a couple of bands of tape along the length, then spiral it up.
2. Make a stack of 2p pieces 2" tall, and tape them together to form a cylindrical weight.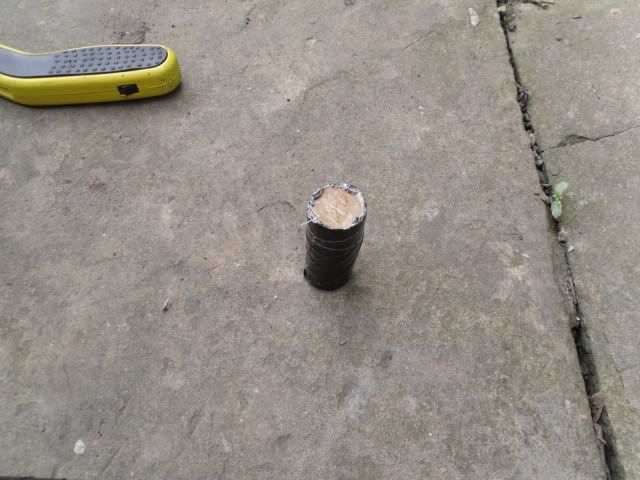 3. Tape them temporarily in place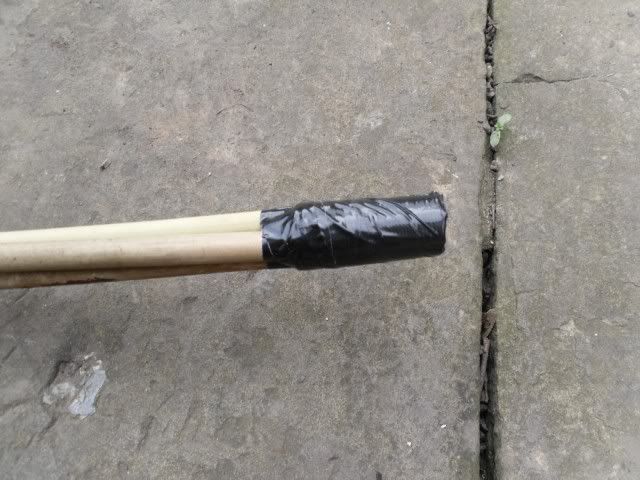 4. Put the industrial heatshrink over the top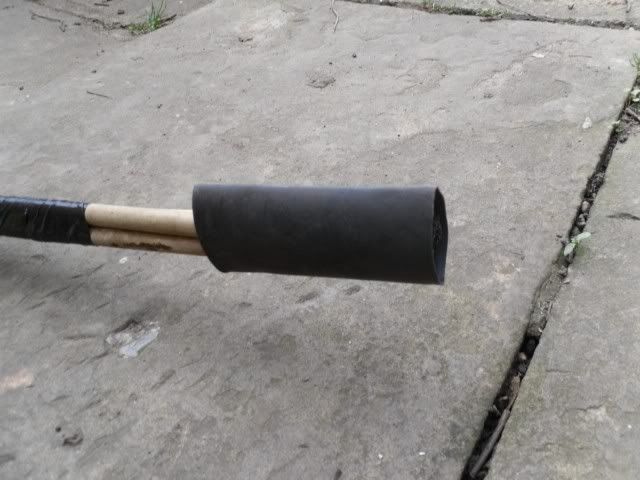 5. Use the heat gun to shrink it on, fixing it perminantly in place.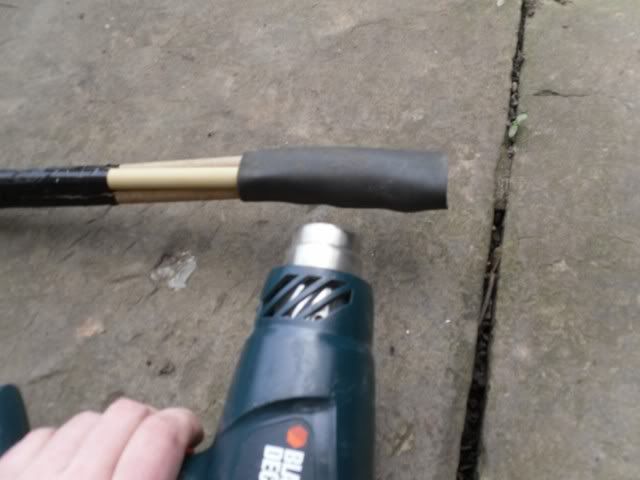 6. Cut 4 or 5 circles from spare foam lagging, to make a pad to stop the canes sliding through to the end. I used a bit of 1" copper pipe slightly sharpened to cut the circles, but you could do it by hand.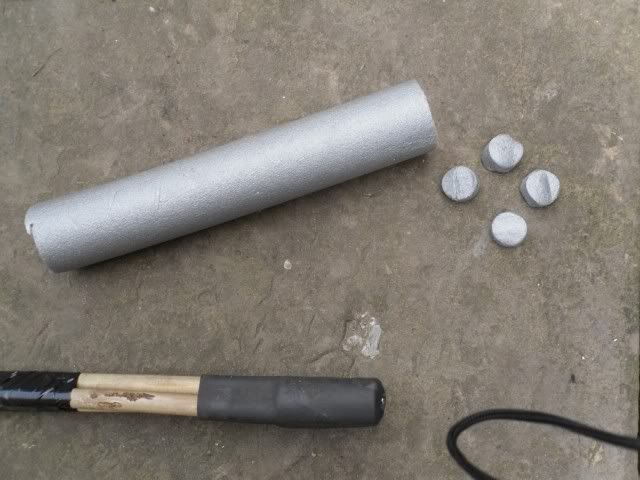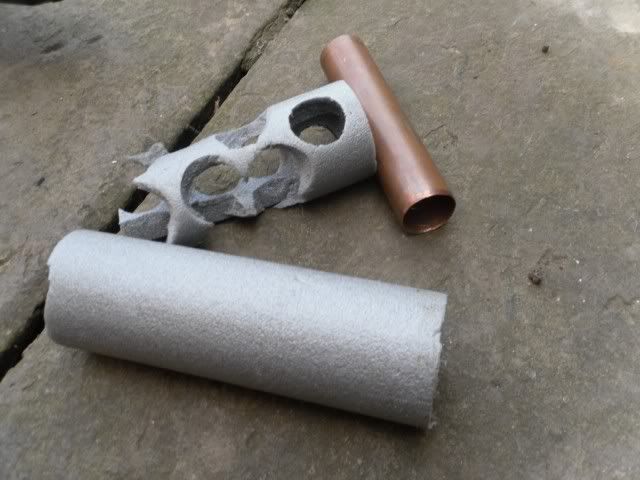 7. Cut castelations into the head of a foot long peice of lagging to allow it to pull closed to a point. insert the circles into the center to stop the canes coming right up to the end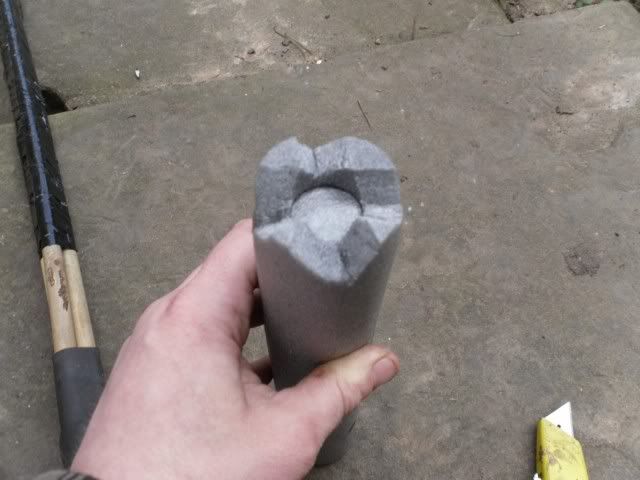 8. Stick it on the end of the bundle of canes, over the top of the wieght, and start taping roung it VERY tightly, so the foam is compressed.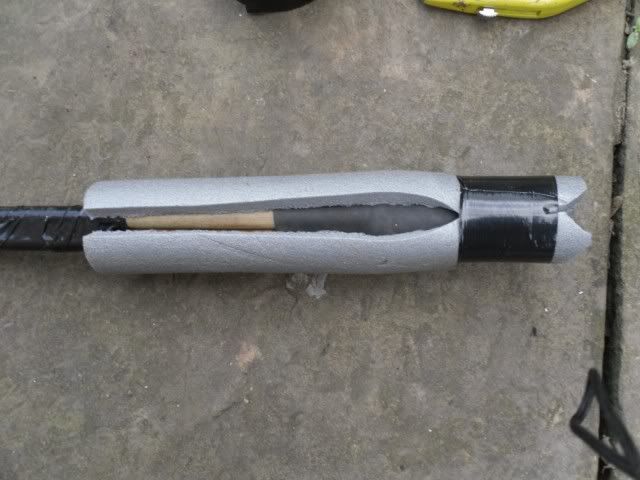 9. I went over the head with Silver tape, just for the look of the thing:
I also put a smaller foam cover on the butt end, but without the weight.
These can then be used to try some of the riskier thrusts, especialy used with a fencing mask. It all looks a bit LARP perhaps, but it does allow you to get an appreciation of what a nasty and versatile weapon they are.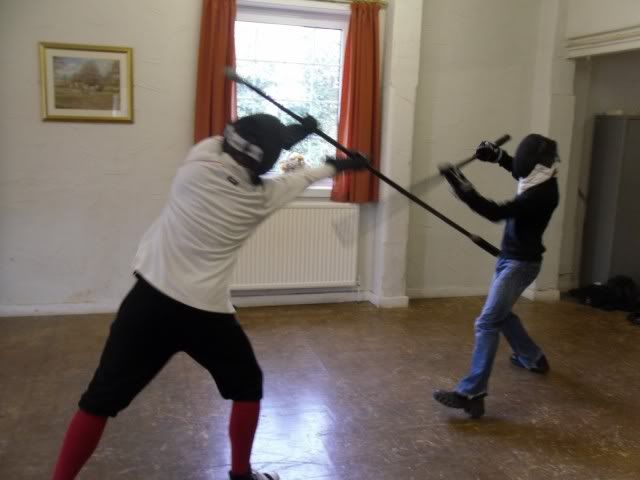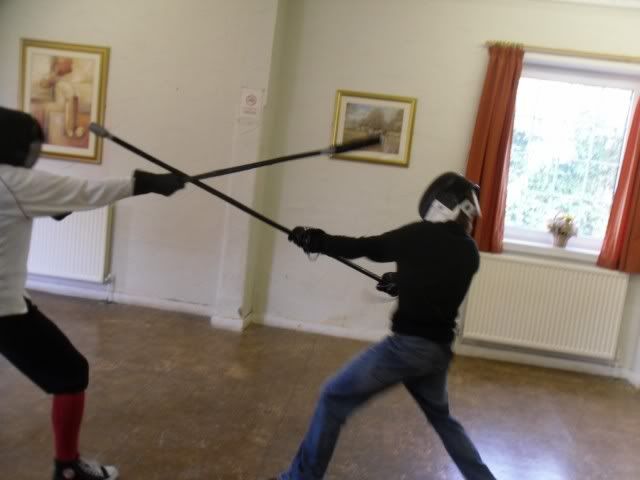 (pictures are Nik Doran and Ian Macintyre).
They do break relatively easily, but they fix easily too, and I recon you can make 10 for £30 in a couple of hours.