Hi everyone,
After years of just reading this website, I've decided I finally have a need to actually write something here
I've spent around 5 or 6 years doing 15th century English combat and living history, and then took a fairly long break before coming back in at 14th C, which I've been doing for the past year or so. Throughout my whole experience in both areas I always found that Islamic armour, weapons and living history really interested me and although I took the point that by the 15th century it would be hard to justify an islamic soldier in an English civil war, I have found evidences to suggest that it would be entirely plausable to find them here in the 14th C, given the close time proximity to the last crusades and the constant and successful trading between our countries. With that in mind I did a lot of research and I've decided that I'm going to go into the Islamic side of things, and perhaps help ease some of the natural prejudices that both history and current affairs have garnished the Islamic nation with.
The point of my post here is that I'm looking for help finding people who can provide me with the armour, weapons and the knowledge I need to make this good. I'm already dealing with Ali the cloth merchant who provides me with excellent material for soft kit, but my biggest issue is finding an armoursmith or maille maker who is willing to combine both fabric, maille and metal armour together for items such as Gauntlets. To give you an idea of complexity, the Mamluks (which are the people I am aiming to 'copy') used something called a Khazaghand which was a Jerkin made of two layers maille (one full length, one waist length) with layers of felt pads, rough silk, rabbit fur and other precious materials. They would sometimes be adorned with metal 'studs' and were fastened by loops and silver buttons. Here's an example that I picked up, which is written from observations of a real, surviving piece: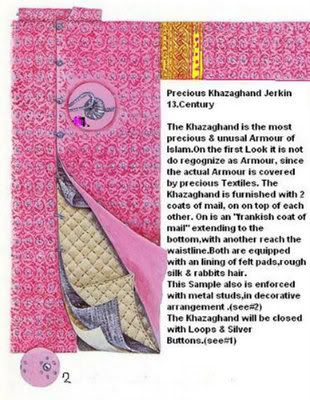 My questions are: Does anyone know of anyone (armoursmith, weapons or otherwise) who would be willing to take parts of this project on? Are there any Islamic soldiers already out there in the UK that I can talk to so that I can learn more and study fighting techniques and styles? Does anyone have any research they may have come across in their time that they might want to offload here about Islamic interactions with the British at that time?
Just in case it helps I'm currently in Nottingham and I'm a female who re enacts males, so the kit would be male oriented but would need to consider boobs
Thanks all
Kai