The "Queen's Own" Royal West Kent Regiment Living History Group (50th & 97th) has been formed by a number of like-minded living historians who share a passionate interest in the Regiments of Kent.
The Group's first and foremost aim is to perpetuate the proud memory of those who lost their lives fighting for their country. The Group honours the memory of both of the County's Regiments, The "Queen's Own" Royal West Kent Regiment and The Buffs (Royal East Kent Regiment).
Based in Kent the Group is a non-political, non-profit making organisation. Founded in 2009 it offers an opportunity for practical research into the uniforms, weapons, equipment, training and everyday life of Great War Soldiers.
We are a living history, rather than a battle re-enactment group and our focus is on education and research. Our members dress in period uniforms and equipment in order to give the most accurate portrayal of activities of the time.
We attend events to provide displays of uniform and equipment and we also assist people who wish to find out more about their relatives who fought during the Great War or other related research. We are extremely proud to be associated with, and have the support of, the Regimental Museum at Maidstone as well as that of The "Queen's Own" Buffs Regimental Association.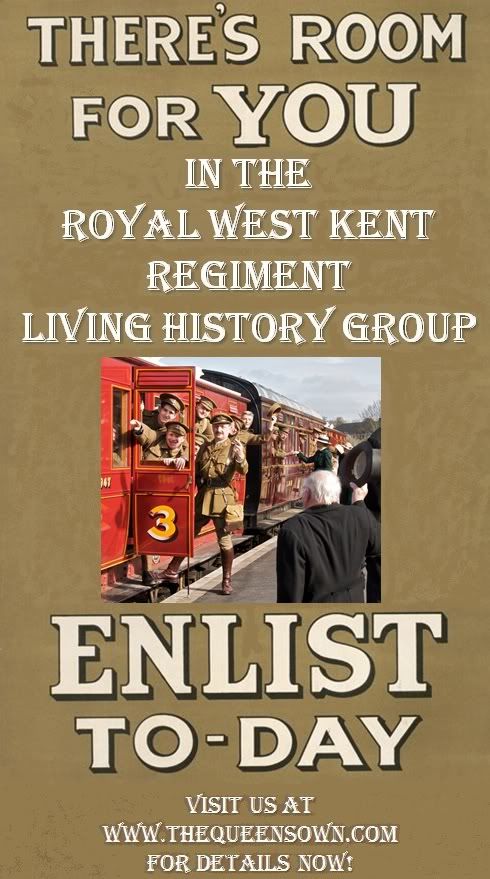 We would like to extend a very warm welcome to anyone in Kent (or even further afield!) who would like to enlist in our ranks ...
Visit us at
http://www.thequeensown.com
- Application forms are available under 'The Group' header -