Well, I decided that now I've got a few other projects out the way I aught to finish my little cannon project.
This project goes back several years. I first started thinking of doing a cannon back in the days of the old text only forum. I was planning to do it purely because I was working with a bloke who had the materials and kit to make a barrel and owed me a favour.
I raised a thread on the forum and it was Griff who suggested that I buck the usual reenactor trend and build an unwheeled cannon. Basically the thought was that most reenactment cannons were copies of a couple of illustrations be schilling (like Thomas, the W.Co gun).
Although we know from the account books of the dukes of burgundy that they had many different styles of gun, Schilling only drew one or two styles again and again, and reenactors keep building them.
Certainly it seems that they had an awfull lot of smaller guns called 'crapadeax' many of which weren't wheeled. So that's what I'm going for.
The project got derailed part way through when several people suggested that an un-wheeled gun would not be acceptable for reenactment because of the difficulty of moving it around. I spent a lot of time trying to find suitable wheels and work out how to still make it light and small enough.
Anyway, in the end I decided to just go ahead and finish plan A, and here it is. It's based on two rather unclear schilling illustrations, descriptions from the account books of the dukes of burgundy, and a couple of surviving barrels in a swiss museum believed to be burgundian war booty.
I'm hoping that it is representitive of a small burgundian field gun from the mid to late 15thC but it is a bit speculative.
Here it is;
At full depression;
At full elevation.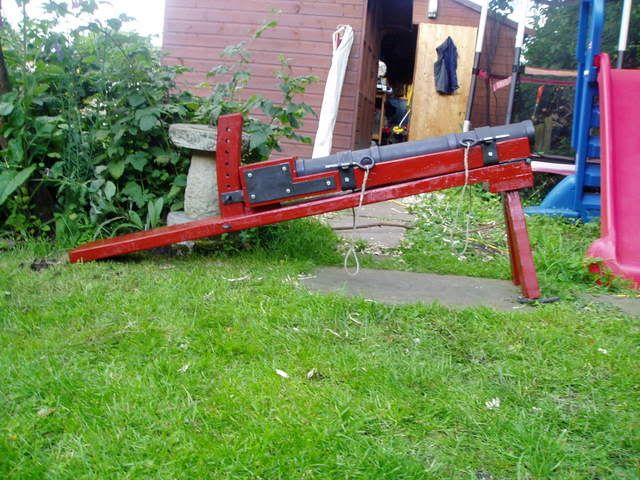 mid elevation.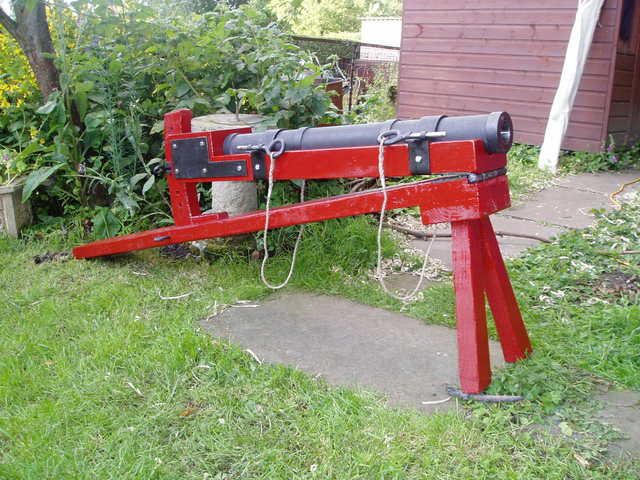 The front hinge. this takes all the recoil of the gun. the pin comes out for transit.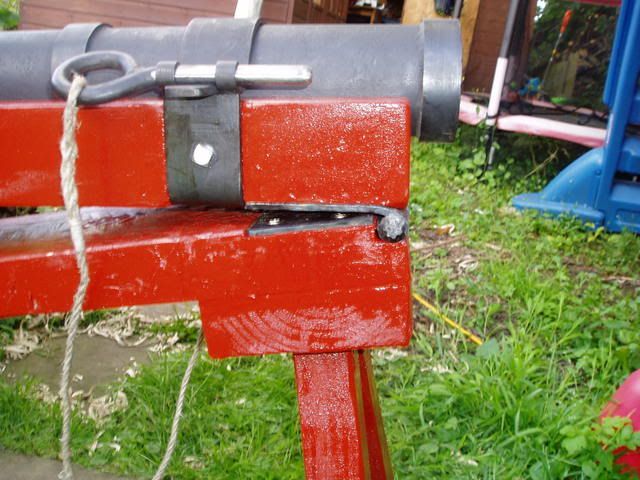 details of the barrel clamp
Detail of the elevation arc. it pivots forwards and backwards so that it does not take the recoil.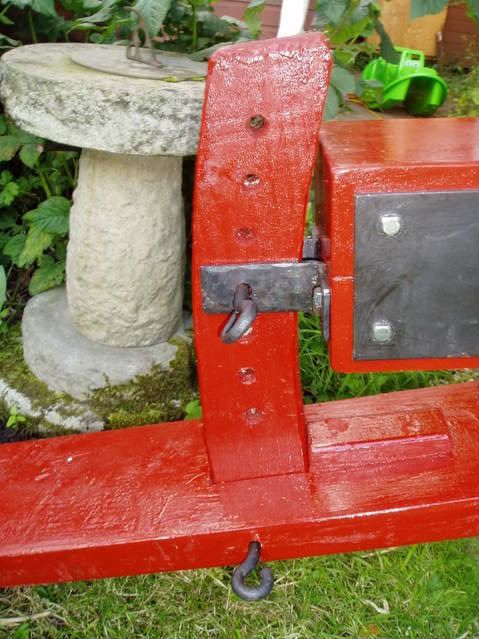 The muzzle and legs.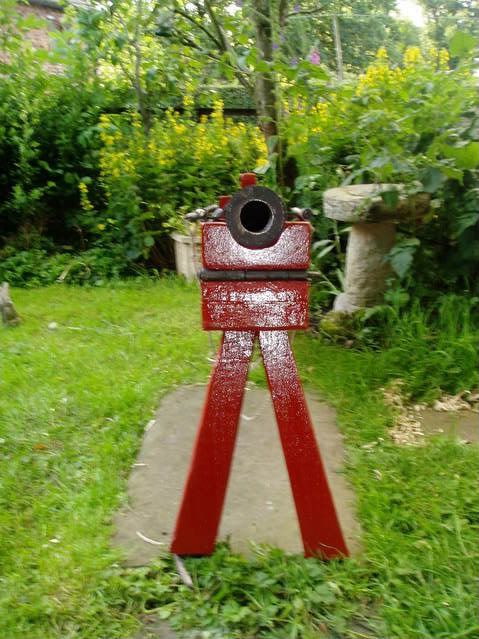 The Credits:
Thanks to Mark Griffin and Andy (TRLD) for the origional design input, and particularly to andy for advice on legalities etc.
Thanks to Ron Curly for organising proofing.
Thanks to Fox, mathew and the rest of the group for practicable help and testing assitance.
Thanks to Chris Anson for making the hinge and the elevating metalwork.
Thanks to Jeorge for paint advice. the paint is red ochre based btw.
Hopefully we'll give it a run at boddelwydan.
Dave.